If you are undergoing home renovations, a bathroom demolition or kitchen remodel, or have a larger more complex construction project, there will be a point in time where you will probably need to rent a dumpster to remove the debris. With a range of different sized dumpsters available you may be unsure what size dumpster will be the best dumpster size to suit your requirements. Here at Discount Dumpster Services, our team of friendly and professional staff will be on hand to help you decide which size dumpster is best for your home or business renovation.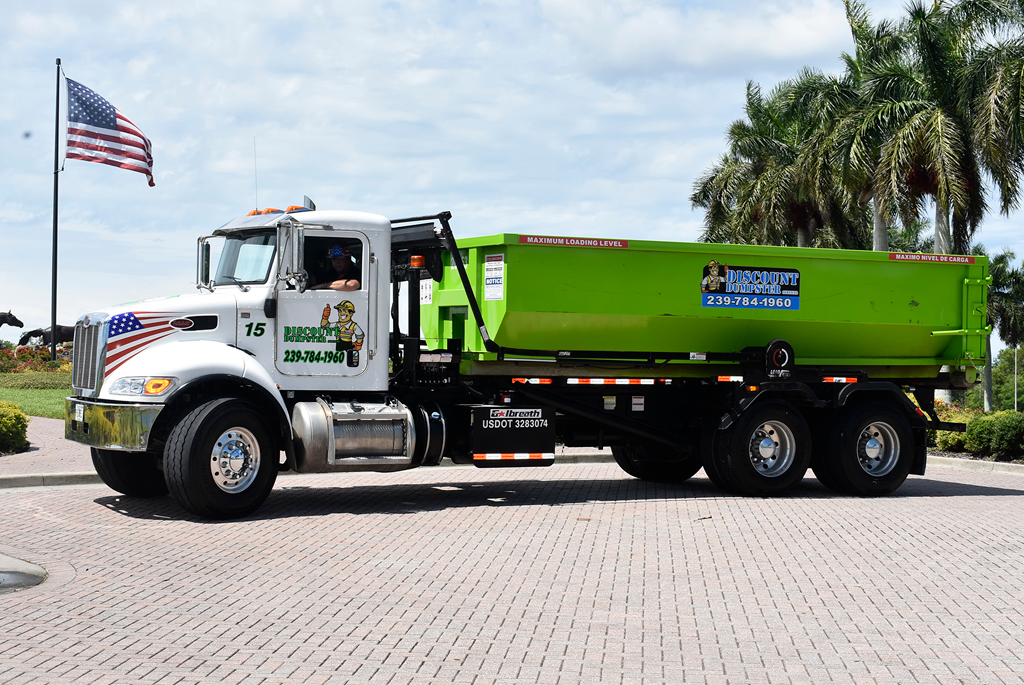 What Size Dumpsters Are Available?
Discount Dumpster Services offers four different dumpster sizes, so we are able to easily accommodate your project whatever your dumpster rental needs may be. We offer 10 yard, 20 yard, 30 yard and 40 yard dumpster rentals for your home or business. The dumpster size you need will depend on the size and scope of your project. 
Ten Yard Dumpster
The ten yard dumpster is the smallest size dumpster we offer, but still holds an impressive amount of waste. This size dumpster is the ideal size dumpster for a yard clean-up, decluttering your home, or a small bathroom remodeling project. The dimensions of our 10 yard dumpsters are as follows: 10.5' long x 8' wide x 4' tall. If you are unsure if our 10 yard dumpster will be big enough for your project give one of our experienced team a call today and we will be happy to advise you. 
Twenty Yard Dumpster
The twenty yard dumpster is a larger sized dumpster which will hold a good amount of household or small business waste equivalent to approximately 6 pick up trucks worth of junk. Our 20 yard dumpster is perfect for a small to medium household or business cleanup project. Ideally suited for a small kitchen remodel, a master bath renovation or a large yard cleanup, this size dumpster has the following dimensions: 21' long x 8' wide x 4' tall. Can't decide between our 10 yard dumpster or 20 yard dumpster? Our experienced and professional team are on hand to help you decide.
Thirty Yard Dumpster
The thirty yard dumpster is the same length as our twenty yard dumpster but offers more space in height, making it an ideal size dumpster for larger projects such as a home addition, office renovation or a larger demolition project.
A thirty yard dumpster is equivalent to approximately 9 pick up trucks worth of waste which is 30 cubic yards. The dimensions of the 30 yard dumpster are as follows: 21' long x 8' wide x 6.5' tall. Unsure if a 30 yard dumpster will be big enough for your project? Call us today and let our experienced team help you decide. 
Forty Yard Dumpster
The forty yard dumpster is the largest dumpster size we offer and is recommended for construction sites, large estate cleanouts, a new home build, and for large home renovations. A 40 yard dumpster holds 40 cubic yards of waste and has the following dimensions: 21' long x 8' wide x 8.5' tall. It is typically the largest size dumpster you can rent from any dumpster rental company. Whether you are a general contractor and need a large roll off container for your job, or are a property owner undertaking a new construction, a 40 yard dumpster is a cost-effective and appropriate waste management solution for industry professionals and homeowners alike.  
Call SW Florida's Lee & Collier Counties FIRST CHOICE Dumpster Rental Company!
Discount Dumpster Services is the number one choice for roll off dumpster rentals in Collier and Lee counties. We service all of South West Florida and also offer same day service. For more information about our roll off dumpster rentals, including help choosing which size dumpster rental you need, call one of our friendly and professional staff today at 239-784-1960!