Roofing projects are a major home improvement task that can generate a lot of waste. Whether you are a roofing contractor, or a homeowner it can be confusing trying to determine the correct size dumpster to rent to dispose of your old roofing materials. Old shingles, tiles, and other roofing materials can quickly pile up, making it essential to have a dumpster on hand.
Renting a dumpster for your roofing project can make the cleanup process easier and more efficient The following tips can help you determine the correct size dumpster to rent for your roofing project.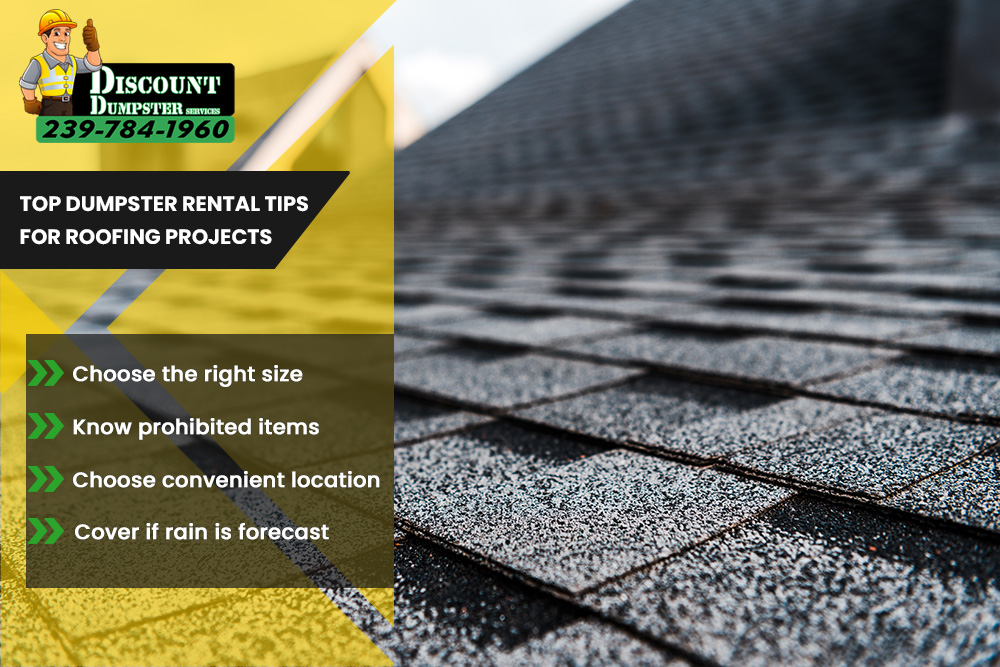 Choose the right size dumpster
The size of the dumpster you choose will depend on the size and scope of your roofing project. When it comes to determining the correct size you will need to take into consideration the size of the roof, the type of roofing material you are disposing of, the weight of the debris, and the amount of layers on the roof you are disposing of.
Are you just removing one layer, or is it a double layer roof that needs to be removed? Is the old roofing material made up of shingles, aluminum roofing, clay or concrete tiling, or wood shingle roofing materials? 
Depending on the type of roofing material you'll want to ensure your dumpster has enough volume to accommodate your roofing waste. You should choose a dumpster that is large enough to accommodate all of the waste generated by your project, but not so large that it is difficult to place in a convenient location close to the roof.  A 10 or 20-yard dumpster is typically the best size for most roofing projects. 
Understand what you can and cannot dispose of
Different dumpster rental companies have different policies regarding what can and cannot be disposed of in their dumpsters. It's important to understand these policies before renting a dumpster to avoid any additional fees or penalties.
Typically, you can dispose of shingles, roofing tiles, and other roofing materials in a dumpster, but hazardous materials like asbestos should be handled separately.

Place the dumpster in a convenient location
When renting a dumpster for your roofing project, make sure to place it in a location that is convenient for you and your roofing crew. This will help minimize the amount of time and effort it takes to transport the waste to the dumpster. You should also make sure that the location is accessible for the delivery truck and does not block any driveways or pathways.
Cover the dumpster
Covering the dumpster with a tarp or other protective cover can help prevent debris from blowing out of the dumpster and littering the surrounding area. This can also prevent rainwater from accumulating in the dumpster and making it heavier, which can result in additional fees.
The first choice for roofing project dumpster rentals
Dumpster rental is a crucial aspect of waste management for roofing companies. When undertaking a roofing project, it's important to have a proper disposal plan for the waste generated during the process. We can provide the right-sized container to collect all the debris, making the process of waste disposal efficient and hassle-free.